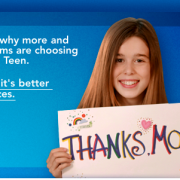 Invisalign teen, Orlando FL – If you are thinking about traditional braces you definitely consider Invisalign for teens. Invisalign Teen® takes a very modern approach in the procedure of straightening your teeth. Invisalign teen provides a series of clear specially formed for your teeth, aligners. These Invisalign aligners gradually straighten your teeth over time.
Invisalign Teen is surprisingly comfortable, very affordable and is an extremely effective approach to straightening your teen's teeth. This is accomplished without metal brackets and wires giving your teen the confidence of a fantastic smile even while being treated. Every Invisalign aligner comes with small and inconspicuous Blue Dot Wear Indicator. This helps your teen know when they are ready for their next set of Invisalign aligners.
With traditional metal braces, your teen may experience pain and discomfort. Additionally, some teens who wear traditional metal braces will experience mouth sores or even injuries that are caused by by metal brace wires. Metal braces also create problems with inadequate brushing and flossing resulting in tooth decay and plaque buildup. Invisalign will help you avoid all of those conditions as well as others such as discoloration of teeth, tooth or bracket breakage, and of course many teens experience difficulty with regular eating. With Invisalign teen your teen will not have to sacrifice eating their favorite foods such as popcorn, potato-chips, apples, bagels, or hard-crusted bread or pizza!
Invisalign Teen Advantages
Treats a wide variety of cases, including:
Crowding
Spacing
Crossbite
Overbite
Underbite
Invisalign Teen – Additional Benefits:
Straightens Your Teeth
Average Cost around $5,000
Allows you to eat your favorite foods
Remove the device when you want
Enjoy Invisible Teeth Straightening
Allows you to brush and floss your teeth normally
Invisalign for teens utilizes a smooth, comfortable plastic aligner instead of sharp metal which could irritate your cheeks and gums
Frees up your busy schedule. Office visits as few as every four to six weeks